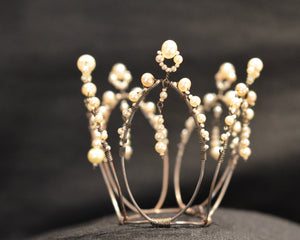 As a rule, bridal and party jewelry are created as special orders based on the customer's wishes.
But all rules have their exceptions and periodically there are some copies in the studio.
If interested, do not hesitate to contact me via email, kontakt@urbergdesign.com.
Each piece of jewelry is made entirely by hand. I strive for, and see pleasure in that all jewelry becomes unique individuals, possessing their own personality through small differences in e.g. structure and shape and based on material choice.
Durable and skin-friendly material choices are part of my jewelry's hallmark. 
 Stina Urberg
I recommend reading the following links: